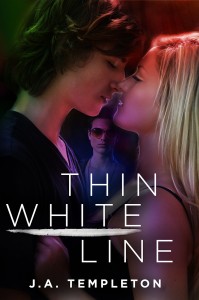 J.A Templeton Website:
http://www.jatempleton.com/
I loved The Mackinnon Curse series but I'd have to say that I loved Thin White Line so much more. J.A Templeton just has a way with words. Well reading this book I felt like I was right beside Kenzie as she was going through the rollercoaster of life. The ups and the downs of dealing with your parents being divorced. Also not to mention the love interest or should I say interest(s).
I whole heartily recommend this book and The Mackinnon Curse series to all. They're both great in their own ways and I believe are enjoyable for teens and young adults.
RECOMMENDED FOR 17+
AMAZON BOOK DESCRIPTION
Good girl gone bad...
Kenzie's picture perfect California life is turned upside down when her father leaves the family for another woman. Within months, she goes from private school and posh beachside living to public school and a sub-par apartment in rainy Washington.
On her first day at her new school, Kenzie is reunited with her cousin Brooke, a rebellious senior who sings in a popular rock band with two of the sexiest men Kenzie has ever met.
Kenzie is soon swept into a world of partying, concerts and tattooed bad boy rockers. Just when she starts to feel like she finally belongs, a single night and a fateful decision changes everything.
To read this wonderful book please visit...